People who suffer from plantar fasciitis understand that it's no laughing matter. Then again, there's not much to like about stabbing pains in your feet when you walk or stand.
Understandably, footwear is of extra importance for plantar fasciitis sufferers. In this post, we'll cover the best shoes for plantar fasciitis – including the OluKai Moloa and the features they have that help alleviate the pain that dogs you with every step.
We'll also address some factors you need to consider before buying shoes, ways to relieve plantar fasciitis symptoms, and the main causes of plantar fasciitis. Let's start with some buying tips.
Quick summary
Footwear Ox is reader-supported. When you buy through external links, we may earn an affiliate commission. Learn more.

<!—INSERT CODE BELOW—>

Our #1 Choice

Olukai Moloa (Men's)

A comfortable fit from the get go

Great support and stability

Flexible back strap gives option to slip-on or slide-in

Check on Amazon →

Dansko Professional Mule (Women's)

Spacious and protective toe box

Looks fashionable

Rocker bottom sole

Check on Amazon →

Vionic Aston Preston Slip-On Loafer (Men's)

Designed by podiatrists

Lightweight

Shock-absorbing technology

Check on Amazon →

Asics Gel Resolution 6 Tennis Shoes (Women's)

Extremely durable

Excellent shock absorbing features

Extra heel and arch support

Check on Amazon →

Orthofeet Proven Pain Relief Dress Shoes (Men's)

Gel-padded heel

Absorbs shock effectively

Ortho-Cushioning system

Check on Amazon →

Brooks Ghost 11 Running Shoe (Women's)

Lightweight and more so than older versions

Heel has excellent shock absorbing qualities

Feels comfortable and cushioned

Check on Amazon →

Mizuno Wave Sayonara 3 Running Shoe (Men's)

Breathable upper

Durable despite being lightweight

Shock-absorbing due to Wave technology

Check on Amazon →

Oofos Oocloog (Unisex) 

Absorbs shock very effectively

Adapts well to natural foot movements

Slips on and off the foot effortlessly

Check on Amazon →

Saucony Omni Walker Walking Shoe

Support bridge for the mid-foot

Superior support and stability

Molded EVA midsole

Check on Amazon (Men's) →
Check on Amazon (Women's) →

Under Armour Women's Charged Assert 8 Running Shoe

Lightweight

Great durability

Very comfortable and breathable

Check on Amazon →

Wolverine WO2421 Raider Boot (Men's)

Arch support is excellent

Shock absorption in abundance

Solid composition

Check on Amazon →

Vionic Rest Joan Mule (Women's)

Spacious fit

Contains an EVA footbed

Merges style with comfort

Check on Amazon →

Spenco Supreme Slide Slipper

Deep heel cupping

Non-slip, non-marking outsole

Footbed is compression-molded

Check on Amazon (Men's) →
Check on Amazon (Women's) →
Before You Buy: 7 Things to Consider When Buying Shoes for Plantar Fasciitis
Plantar fasciitis sufferers generally experience the same symptoms but that doesn't mean they can wear the same style of shoe and expect a similar level of relief. But, generally speaking, shoes for plantar fasciitis should include the following qualities:
1. Arch Support
Arch support is an important attribute that helps to alleviate and prevent plantar fasciitis symptoms. Proper arch support relieves pain by stabilizing the foot, preventing overpronation (when your feet turn inward), and reducing the tension on your fascia.
It also includes a deep heel cup with adjustable cushioning that helps protect the heel bone while controlling both pronation and supination. A firm heel cup keeps your rearfoot snug enough that it doesn't shift or twist within the shoe.
2. The Right Shoe For The Right Activity
You need to choose a shoe that's suitable for each activity. A running shoe, for example, should be highly-flexible and lightweight, and have a thicker sole that can handle the impact of each stride hitting the ground.
Work shoes, or any shoes which involve walking or standing for long hours, should be, A) comfortable enough to keep your feet from becoming fatigued or painful, and B) have the proper arch support.
Casual shoes are a sort of "in-between" shoe with features common to both running and work shoes.
3. Cushioning
Cushioning and comfort go hand-in-hand and you want to make sure that there's enough cushioning to relieve pressure and absorb shock every time your heel (and foot) hits the ground.
4. Fit
Finding the proper fit is essential to find a comfortable shoe. You don't want to make a mistake when finding the right shoe size.
If possible, have your feet sized by a professional. If one foot is slightly larger than the other, then buy for the larger foot size. Also, it's important to wear the socks or orthotic devices you plan to wear with the shoes regularly to ensure a proper fit when you're checking out a shoe's fit.
It's always wiser to try on your shoes later in the day because your feet naturally swell during the day. A shoe that fits a bit snug in the morning will be too tight by late afternoon.
Also, many of the best shoes for plantar fasciitis are roomier than regular shoes and provide a greater range of movement. That can help in the battle against plantar fasciitis pain and discomfort.
Many shoe companies offer size guides if you prefer to do your shopping online. But check each company's return policy in case you need to send them back because of a bad fit.
5. Removable Insoles
Many of the best shoes for plantar fasciitis sufferers include removable insoles. While the best insoles contribute to a shoe's comfort – or lack of comfort – many wearers prefer to insert their favorite orthotics to achieve a more exact fit.
If your shoes don't come with inserts, then you should buy the best insert you can find while keeping in mind that a good insert won't fix a poor quality shoe. An insert should enhance the shoe's many other good qualities.
6. Materials
Suitable shoes for plantar fasciitis consist of a variety of materials, including leather, rubber, synthetic fabrics, and more. Pay attention to the materials used in every part of the shoe, from the upper to the outsole.
The materials should be, among other things, flexible enough to provide the proper freedom of movement, and breathable enough to keep your foot cool, dry, and comfortable under all conditions, including long hours spent on your feet.
The inside of the shoe should consist of breathable fabric and ample cushioning. It should also be thick enough to provide enough support, but a too-thick insole may become uncomfortable.
Rubber is the material of choice for most outsoles because it's flexible, shock-absorbent, and provides good traction and stability.
7. Heels
Avoid shoes with high heels if you suffer from plantar fasciitis because they'll place extra stress on your foot (and your plantar fascia). Heels shouldn't measure more than a couple of inches in height – and look for shoes with less heel than that, if possible.
All of the above attributes aside, the best shoe for you is a matter of personal preference. While someone may rave about a certain shoe and style, you may find the fit of the same shoe uncomfortable.
The 13 Best Shoes For Plantar Fasciitis For Men And Women
OluKai is a cool brand, and not just because they manufacture exceptionally comfortable shoes. They also abide by an ethic that says it's best to give without the expectation of receiving anything in return.
The folks at Hawaii-based OluKai say they were giving back even before their shoemaking operation become profitable, which is certainly admirable, and we also know that their shoes – including the men's Moloa – are of very high quality.
The Moloa features a contoured footbed that offers better arch support than a typical loafer, while the heel's shock absorbency makes it comfortable enough to stand in for a long time. That's ideal for anyone whose occupation keeps them on their feet for most of the day.
With a 100% full-grain leather upper, hand-sewn stitching, and multiple coliors from which to choose, the OluKai Moloa looks good and feels good. It includes a microfiber suede lining while a firm cellulose fiber insert adds excellent stability. Freshness is ensured thanks to antimicrobial and anti-odor treatment, while the footbed has a soft polyurethane base Gel insert to enhance all-day comfort.
Another cool feature of the Moloa is its fold-down heel counter which allows you to wear it as a slip-on or a slide; there's not a lot of shoes out there that claim that feature.
Traction comes from a full-grain leather outsole that includes non-marking, and molded traction pads for extra grip and stability on all kinds of terrain.
While the Moloa is suitable for wearers for all foot widths and sizes, it's particularly comfortable for people who have wide feet and who prefer a bit more room in their shoe.
Pros
Fit comfortably right out of the box
Back flap lets you switch from slip-on to slide-in style
Stable and supportive
Bottom Line
There's a lot to love about the OluKai Moloa, including its versatility and overall comfort. It's an excellent choice for anyone who suffers from plantar fasciitis or spends a lot of time on their feet.
Standing on their feet for long hours is a fact of life for many people, from nurses to teachers to restaurant workers. Those long hours can take a toll on anyone who suffers from plantar fasciitis, which is why purchasing shoes such as the Dansko Professional Mule is a must.
The Professional Mule offers all of the comfort and support for anyone who suffers from foot issues, as well as those who do not. It encourages the natural movement of your feet, which helps reduce the pain of plantar fasciitis, and it has a roomy, reinforced toe box that's protective.
The Mule's polyurethane inner frame helps reduce torque while offering all the stability and cushioning you need to get through a long day. It includes a memory foam footbed for extra cushioning.
Another cool feature is the Mule's rocker bottom sole – also made of polyurethane – that offers plenty of shock absorption as well as a "springiness" you'll notice with every step.
The Professional Mule also features a padded instep collar and offers a wide heel strike that increases its stability.
We also appreciate the Mule's stylishness. It comes in a wide range of colors and patterns, and its leather construction is durable and should give you years of use with proper maintenance.
Pros
Roomy, reinforced toe box
Stylish look
Rocker bottom sole
Cons
Sizing may run a bit tight
Bottom Line
The Dansko Professional Mule appears in plenty of reviews of shoes that provide the necessary comfort and stability for people who spend long hours on their feet. And all of its features favor people who suffer from plantar fasciitis.
Input from podiatrists figures prominently in the Vionic Aston Preston design, and that's good news for anyone who suffers from foot issues. It also helps make their Preston slip-on loafer the best dress shoes for plantar fasciitis.
What makes the Vionic Ashton Preston so good? Besides being clinically-proven to relieve the common causes of plantar fasciitis, it also consists of a lightweight material that's easy on the feet but stable and durable enough for long days at the office.
The Preston features a moc toe design that's stylish and includes a leather upper and twin gore panels that help make it an excellent work casual shoe. It also features a flexible EVA midsole that provides all the shock absorption you need to keep your feet from becoming fatigued while fending off potential foot issues.
It also features deep heel cups, while a lightly padded top line protects feet from chafing, another excellent feature if you suffer from sensitive feet. It's no surprise then, that the Ashton Preston has the American Podiatric Medical Association's Seal of Acceptance.
Pros
Designed by podiatrists
Shock-absorbing technology
Lightweight
Cons
Sizing may run a little wide
Bottom Line
The Vionic Ashton Preston has the backing of podiatrists, as well as the support from plenty of satisfied customers. It's suitable for most work environments and an excellent casual shoe.
The Gel Resolution 6 represents the latest upgrade in a popular line of ASICS that was already damn good. That's good news for plantar fasciitis sufferers, because the Resolution 6 features a heel counter (a plastic insert used to reinforce the heel cup of the shoe) and an increased emphasis on support and stability.
Also, ASICS extended its patented Flexion Fit construction to the midfoot while a lateral support brace maximizes stability when providing the kind of comfort you'll appreciate. We think the Resolution 6 represents the best sneakers for plantar fasciitis.
Further comfort comes from a rearfoot and forefoot cushioning that reduces the shock during the impact of each stride and throughout the entire gait cycle. Comfort also comes from a padded tongue and collar, while the Resolution 6 includes a toe protector that contributes to the shoe's overall durability.
One of the things you'll like is how form-fitting these shoes are (thanks, in part, to Flexion Fit technology) from top to bottom. Plenty of shoes help you to get an "ideal" fit for the bottom of your foot, including with orthotics, but the Resolution 6's upper is form-fitting, as well.
Finally, the shoe includes a high-abrasion, non-marking outsole that provides plenty of traction and stability on all kinds of surfaces.
The quality of the Resolution 6 comes as no surprise given ASICS' excellent line of performance-driven athletic shoes that serve a variety of purposes.
Pros
Superior shock absorption
Added heel and arch support
Very durable
Cons
Toe box may be a bit narrow
Bottom Line
The Resolution 6 builds on the legacy of an already excellent ASICS line with beefed up arch and heel support – which is ideal for plantar fasciitis sufferers.
The full name of this excellent shoe is the "OrthoFeet Proven Pain Relief Plantar Fasciitis Orthopedic Comfortable Diabetic Flat Feet Gramercy Men's Dress Shoes."
While it's doubtful anyone will use that lengthy title when describing their new shoes to others – more power to you if you do –  it does go a long way towards explaining what OrthoFeet is all about, i.e., developing shoes for people who suffer from a variety of foot issues, including plantar fasciitis.
The Gramercy dress shoe has a long list of features that make it excellent for people dealing with foot complications, including anatomical arch support that conforms to your foot's unique contours as you walk. The arch support also offers, as the shoe's name suggests, ideal support for folks with flat feet.
Gel padding cushioning under the heel provides excellent shock absorption and helps to relieve plantar fasciitis and heel pain.
The Gramercy features a wide toe box that eliminates pressure on bunions and hammer toes, while the soft upper provides a comfortable, non-binding fit that helps lessen the pressure that may exacerbate various foot issues.
Another one of the Gramercy's many pluses is its Ortho-Cushioning system that features a contoured orthotic insole with superior heel support. It also includes the aforementioned gel padding under the heel, and an ergonomic sole with air cushioning.
Producing a quality shoe such as the Gramercy is nothing new for OrthoFeet, which combines therapeutic detailing with athletic footwear technology. Whether it's plantar fasciitis, heel and foot pain, bunions, corns, calluses, etc., OrthoFeet has you covered.
Pros
Ortho-Cushioning system
Gel-padded heel
Superior shock absorption
Cons
Some wearers say the shoes "squeak" after repeated wear
Bottom Line
OrthoFeet doesn't just design shoes with features that may help people with foot issues, they design them with those people in mind specifically. The Gramercy takes an aggressive approach to deal with plantar fasciitis.
The Ghost running shoe series is known for its cushioning, among other things. But the folks at Brooks upped the ante with the latest version.
The Ghost 11 includes updates that improve on the previous versions in a variety of ways, including even better cushioning. That's good news for all runners, including those that suffer from plantar fasciitis.
To break it down, the Ghost 11 has many superb features, including:
BioMoGo and DNA loft cushioning provides a soft feel without sacrificing responsiveness and durability. The DNA cushioning is gel-based and it conforms nicely to the wearer's unique foot strike.
The rubber sole is softer than those on many other running shoes and that's another reason why plantar fasciitis sufferers should give these shoes serious consideration when it's time to buy a new pair. The sole consists of both blown rubber (in the forefoot area) and carbon rubber (heel). The carbon rubber helps bolster the shoe's overall durability.
The Ghost 11 features a segmented crash pad that adapts to each foot strike. In turn, that makes for a smooth ride no matter how your foot lands.
It's an excellent shoe for runners with medium to high arches who prefer neutral support.
The Ghost 11 is softer and lighter than previous versions.
It features an updated engineered mesh upper that contributes to the shoe's overall lightweight feel and fit. The mesh is more stretchable than before, as well.
The heel area includes a synthetic external counter that's stitched to the shoe like an overlay. It keeps the foot firmly in place and provides excellent shock absorption. All in all, it helps make the Ghost 11 an excellent choice for heel strikers.
Like every Ghost version that came before it, the Ghost 11 delivers a responsive, cushy ride while providing a lightweight structure. But many runners will tell you that it's even better than before.
Pros
Well-cushioned feel
Lighter weight when compared to previous versions
Superior shock absorption in the heel
Cons
Some wearers say the toe area is too cramped
Bottom Line
The Brooks Ghost 11 has all the features you and your feet demand if you suffer from plantar fasciitis. And it represents another leap forward from an already excellent line of shoes.
Lightweight construction, durability, and Mizuno technology combine to create the popular Mizuno Wave Sayonara running shoe.
The Sayonara is a great option for every runner, whether it's someone who runs for long distances or someone who favors shorter runs, but also a good choice for plantar fasciitis sufferers for a variety of reasons:
As mentioned, the Sayonara features a lightweight design that consists of 75% synthetic material and 25% mesh.
It features Mizuno's innovative Wave technology that helps disperse the shock of every impact without placing too much of the brunt on the foot.
The outsole utilizes Mizuno X10 technology that features a durable carbon rubber that enhances the shoe's durability, especially in areas of high impact. The outsole is also very flexible, and provides superb traction and slip-resistance.
The Sayonara's midsole incorporates Mizuno's Smooth Ride Technology that helps to provide a a nice, easy stride. Flex Controllers and Flex Grooves in the forefoot also contribute to the shoe's smooth, rocking-chair-like transition.
An OrthoLite sock liner contributes to an overall healthy foot environment and has anti-microbial properties that help keep the foot moisture and odor-free.
You'll appreciate the shoe's Air Mesh technology that extremely breathable and comfortable. It keeps your foot cool and dry.
The Sayonara's upper consists of a flexible material that helps create an optimal fit.
All in all, the Sayonara 3 is everything you'd expect from a high-performance Mizuno shoe, and that's good news for plantar fasciitis sufferers.
Pros
Wave technology provides excellent shock absorption
Breathable upper
Lightweight yet durable
Cons
Some users say the fit could be more flexible
Bottom Line
The Mizuno Sayonara 3 is an ideal running shoe for men who suffer from plantar fasciitis. You'll appreciate it's comfortable feel and shock absorption.
The OOCloog is billed as a post-run sports recovery clog but it's versatile enough for many occasions – and it's an ideal shoe for plantar fasciitis sufferers.
OOFOS Footwear – an American-based company – includes several details in its shoes that help reduce the stress on your feet, ankles, and lower legs. That includes their innovative OOfoam technology that it says absorbs 37% more impact than traditional foam materials.
As a result, the OOCloog, like other OOFOS shoes, features fewer layers than on many other shoes and clogs to leave only the OOfoam technology between your foot and the ground.
The classic OOFOS clog's recovery technology also provides plenty of arch support while giving your feet the room to move naturally. No matter where you wear them, whether it's for work or leisure, the OOCloog offers all-day comfort.
OOFOS footwear includes a biomechanical design that allows for more natural motion with every stride, as well as a smoother ride.
Another excellent OOCloog feature is it patented footbed that cradles your arches to reduce stress on your feet (and your body), which means your feet will feel less-fatigued whether it's after a long day on the job or after a long-distance run.
The OOCloog consists of synthetic material that's lightweight and machine washable.
Pros
Offers excellent shock absorption
Allows for natural movement of the foot
Easy on and off slip-on design
Cons
Check the sizing – it may run small
Bottom Line
The OOCloog features a comfortable, shock-absorbent design that helps keep your feet pain-free and less fatigued. It's worth considering if you suffer from plantar fasciitis.
The Saucony Omni Walker is a walking shoe with all of the perks of a running shoe and has all of the features you require if you deal with plantar fasciitis issues. And it comes in men's and women's versions that are equally good.
For people with sensitive feet (including plantar fasciitis sufferers), the Saucony Omni Walker provides relief in a variety of ways, including via a mid-foot support bridge that's exceptionally shock-absorbent and supportive.
It also features Saucony's XT-900TV outsole and a "crash zone" located at the heel that minimizes each heel strike – another plus for anyone with plantar fasciitis.
A compression-molded EVA midsole contributes to the shoe's overall comfort while also correcting overpronation issues.
The Saucony Walker consists of a leather and synthetic design that helps provide a nice overall fit and isn't overly heavy. Its engineered asymmetrical sole helps create what Saucony calls a "bio-mechanical" fit that snugly cradles your feet with every step.
Pros
Mid-foot support bridge
Excellent stability and support
Molded EVA midsole
Cons
Some users say it developed a squeaking noise
Bottom Line
Saucony knows a thing or two about creating high-quality walking and running shoes and it shows with their Grid Omni Walker. It offers plenty of support for anyone who suffers from plantar fasciitis and other foot issues.
Under Armour's Charged Assert 8 shoes offer women with plantar fasciitis everything they need to keep running, walking or competing in sport in the way they want to.
The shoes are made with a lightweight mesh for breathability and beautifully durable leather overlays that give a wonderful level of support without feeling too tight or limiting movement.
They absorb shock very well, and provide plenty of flexibility, cushioning and balance for sportswomen; they are also very lightweight, allowing you to be highly agile and dynamic. The EVA sock liner makes putting on and removing the shoes very swift and comfortable, and the rubber outsole is great even during high impact activities like HIIT.
Ultimately, they offer a really good level of support, comfort and defence against the elements. Those with wide feet will find particular comfort with them. However, there are some drawbacks to bear in mind.
First, they don't come in a huge range of colours, meaning you are aesthetically limited – a problem several reviewers bring up. They do look good – they're just not Under Armour's best. Very much a function over form choice.
Second, not everyone loves the fit, with some finding the extra ankle accommodation a little uncomfortable or just plain weird. It's definitely worth test driving these before you buy them – amazon offers returns – and making sure you are totally comfortable with the fit.
Pros
Very comfortable, with a great deal of support and breathability
Highly stable and durable
Lightweight and agile
Cons
Lack of aesthetic options
Fit is not perfect for all
Bottom Line
A really good choice for women who love their sport and want the freedom to compete and go hard without wearing out their ankles or their shoes.
You have a lot of things to consider when choosing the right shoe for your workplace: comfort, the type of work, your company's dress code – the list is long.
If your work requires physical labor, such as construction work and the like, then you should give serious consideration to the Wolverine W02421 Raider Boot, a rugged yet stylish example of footwear that's excellent for people with plantar fasciitis.
The Wolverine Raider has, for one, a solid structure that includes excellent arch support. And, unlike some work boots, it also has a nice amount of cushioning that helps you to get through a long day on the job. There's extra cushioning around the collar, too, which makes for even better ankle support.
But there's more, including a roomy enough fit that never feels snug – but never feels too loose, either – and provides room to add orthotics, if you so choose.
The highly-supportive arch is also flexible, while the foot and heel of the outsole feature multiple pressure pads that provide plenty of shock absorption. Moreover, the arch is deep enough that you can climb ladders safely and comfortably.
You can choose the men's Raider with either a soft or steel toe, depending on your job and its potential hazards.
You have a choice of brown or black when buying the Wolverine Raider. Either way, you'll look good on the job and the boots are stylish enough that you can wear them away from the workplace.
Cons
Some wearers feel like the steel toe is a bit stiff
Bottom Line
The Wolverine Raider rates among the best work shoes for plantar fasciitis for a lot of reasons, not the least of which is support and comfort. It helps keep your foot comfortable and fatigue-free throughout the day.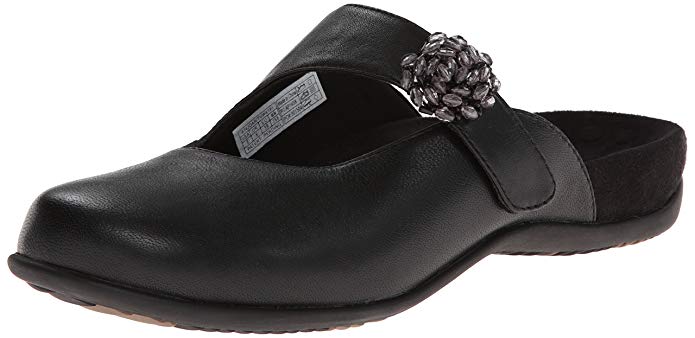 Comfortable shoes that help alleviate plantar fasciitis symptoms don't necessarily have to be unattractive. Vionic's Joan Mule is a prime example: it's a stylish shoe that you can wear for more formal events while providing all of the support and cushioning you need.
The Joan Mule features a microfiber-covered EVA footbed that offers exceptional comfort, cushioning, and support, while a durable rubber outsole provides the traction and support you need no matter the activity, including while on the job.
Most importantly, it offers the arch and heel support necessary for plantar fasciitis sufferers, and it's durable enough to survive the strain of daily use. A roomy toe box also contributes to the shoe's overall comfort. Overall, it's a roomy fit that's not too loose.
Again, the Joan Mule has an attractive, stylish look that makes it suitable for a variety of events. That's a plus for a lot of reasons, including that it enables you to wear appropriate footwear instead of shoes that may look great, but can aggravate plantar fasciitis symptoms.
And, hey, this shoe as the American Podiatric Medicine Association's Seal of Acceptance, so the folks at Vionic must be doing something right.
Pros
Nice combination of style and comfort
Roomy fit
EVA footbed
Cons
Not as breathable as you'd expect from its design
Bottom Line
Sometimes you need a shoe that's dressy enough for certain occasions but without sacrificing comfort or aggravating your plantar fasciitis pain. If so, you check out Vionic's Joan Mule.
Slippers may not rate high on your list of supportive footwear but considering how much time some people spend in slippers, it's something worth pondering.
Spenco slippers address plantar fasciitis issues by providing excellent orthotic grade arch support and a compression footbed that molds to the shape of your foot – not the other way around. A deep heel cup contributes to the slipper's overall support, as well.
A synthetic sole offers more than enough cushioning to reduce or alleviate the pain that comes from each impact, but they're smooth and non-marking like a traditional slipper sole.
A metatarsal dome alleviates forefoot pressure, while the insole includes an antimicrobial treatment that keeps feet fresh while reducing odor.
Pros
Compression-molded footbed
Deep heel cupping
Non-slip, non-marking outsole
Cons
It may take some time to adjust to the slipper if you have a neutral stride
Bottom Line
There's no reason not to pamper your feet after a long day and Spenco's slippers allow you to do that while also keeping your plantar fasciitis issues under control.
7 Tips For Healing Plantar Fasciitis While Making You Comfortable Again
For plantar fasciitis sufferers, there's not a lot of good news regarding the persistent pain and discomfort in their feet. But there is hope because most people recover from it with rest, orthotics, and simple exercises that alleviate the pain of plantar fasciitis.
Rest
It's not always easy to find time for rest during a busy life but rest is one of the most important things you can do to ease plantar fasciitis pain. It doesn't mean total bed rest, mind you, but try to avoid activities that place extra strain on your feet – such as running, dancing, and walking barefoot – until the pain is gone.
Ice
Ah, ice – the simple solution to so many aches and pains, including plantar fasciitis. You can use ice to lower the pain and swelling of plantar fasciitis by applying a cold compress or ice pack to your foot for several 15-minute sessions per day. Wrap the ice pack in a towel or another covering to avoid placing it in direct contact with your skin.
Stretching
Stretching is another great way to alleviate your plantar fasciitis suffering. The following are just some of the many stretches that help to address the issue. Note: you can do these exercises two to three times today, but don't continue them if they become too painful.
Calf stretches
Muscle tightness in the calves can exacerbate the pain of plantar fasciitis. A common calf stretch that will provide some relief involves standing an arm's length from the wall, both hands placed on the wall, while extending one leg behind you. Slowly bend the other leg forward while keeping the knee of the other leg straight. You should be able to feel the stretch in the calf of your rear leg; hold the stretch for 15 to 30 seconds and repeat three times.
Plantar fasciitis stretch
Relieving the tightness of your plantar fasciitis is another step toward relieving the pain. One easy stretch you can do involves sitting on a chair and crossing the injured leg (and foot) over the other. Hold the injured foot in your opposite hand and pull the toes toward the shin to create tension in your foot's arch.
Place the other hand on the bottom of your foot to feel the tension in your plantar fascia. Hold the stretch for 10 seconds and repeat it two or three times.
Rolling stretches, in which you place a round object under your foot and roll it back and forth, can help loosen the muscles. You can buy a foam roller especially made for this type of stretch, or even a golf ball and rolling pin. Roll the object for about two minutes.
When you flex your foot you increase blood flow to the area while relieving tension in the calves: Sit on the floor with your legs straight out in front of you. Wrap an elastic band – which you can buy at most sporting goods stores – around your foot while holding one end in your hand. Gently extend your toes away from your body and then slowly return them to the starting position. Repeat this movement 10 times.
Sit with both feet flat on the ground and place a small towel in front of them. Grasp the center of the towel with your toes and curl it towards you. Repeat five times.
Another method to flex and stretch the foot muscles is similar to towel curls, except you pick up a single marble at a time and place it in a bowl placed in front of your feet. Repeat this movement 20 times.
Taping
Wrapping tape around your foot can help support your arch while still allowing freedom of movement in your foot and ankle. Use cotton kinesiology tape that's flexible, and speak to a physical therapist or doctor to make sure that you're wrapping your foot properly.
Orthotics
Your doctor or physical therapist may recommend that you add an orthotic support to your shoe – such as a gel-pad insert – to support both the arch and heel of your foot while taking some of the strain and pressure off of your plantar fascia.
Prevention
It's important to maintain your treatment routine for plantar fasciitis even when its symptoms subside. That includes stretching and the other options just listed, but also managing your weight, switching to lower-impact types of exercise, and wearing a supportive shoe right after waking up each morning (but not a sandal or flip-flop).
Medication
In some cases, your doctor may recommend medication – usually for two to three weeks – to ease your plantar fasciitis pain and inflammation. This treatment typically involves the use of a non-steroidal anti-inflammatory drug. If the pain persists, your doctor may suggest injecting cortisone into the tender area of your foot.
Common Causes of Plantar Fasciitis
Plantar fasciitis usually causes a stabbing pain in your foot near the heel. Many sufferers notice that the pain is worse during the first few steps after waking in the morning, and after – or during – long periods standing or when rising after sitting.
What causes it? Well, generally speaking, plantar fasciitis arises because of small tears in your plantar fascia, the thick band of tissue that runs across the bottom of your foot. The plantar fascia acts as a shock absorber that supports the arch in your foot.
But the cause of plantar fasciitis may stem from other risk factors such as:
Age – People between the ages of 40 and 60 are at a greater risk of suffering plantar fasciitis.
Certain types of exercise – Activities that place a lot of stress on your heel and its attached tissue, such as long-distance running, ballet and aerobic dance, and activities that involve a lot of jumping – may cause plantar fasciitis.
Obesity – Excess weight places a lot of extra stress on your body, including your plantar fascia.
Long hours spent standing – Many people work in occupations that require them to spend long hours on their feet, and often on hard surfaces.
Foot mechanics/shape – Issues such as flat feet, high arches, or how your weight is distributed based on your pattern of walking can place added stress on your fascia.
Improper footwear – Wearing shoes that don't fit properly or provide enough support can easily aggravate your plantar fascia and lead to pain and inflammation.
Why We Chose These Shoes For Our Review
Plantar fasciitis isn't an issue to take lightly and the footwear you choose is serious business, too, if you suffer from painful foot issues. Our goal is to point you in the right direction by offering a selection of shoes that truly helped relieve plantar fasciitis symptoms.
Choosing the shoes for this review came down to several key factors, including arch support, cushioning, stability, as well as support and overall comfort. We looked for reviews of customers who felt relief from their foot ailments, including people who spend a lot of time on their feet every day.
We also wanted to review different types of shoes – from dress shoes to running shoes to slippers and work shoes. Price was another factor, but we work from the premise that you sometimes have to pay a little bit more (but not always) to get the features you need.
Conclusion
Anyone who suffers from plantar fasciitis understands the importance of choosing shoes that keep their feet comfortable while not exacerbating any negative symptoms. There are plenty of shoes available that address the issue, but do your research and choose wisely.
Do you suffer from plantar fasciitis? If so, what shoes do you wear? Why do you like them? Have you worn any of the shoes on our list? We'd love to hear from you.
---
YOU MIGHT ALSO LIKE:
Best & Most Comfy Shoes For Narrow Feet (Men & Women)
Best & Most Comfortable Driving Shoes For Men & Women
9 Easy Ways To How To Break In Shoes (Leather & Other Materials)
8 Ways To Be Kind To Your Feet After Standing At Work All Day
13 Facts About Shoes (You Did Not Know)
11 Shoes Every Woman Boss Should Have In Her Closet
Best Running Shoes For Shin Splints (Men & Women)
Best Running Shoes For Bad Knees: Reviewed (Men & Women)